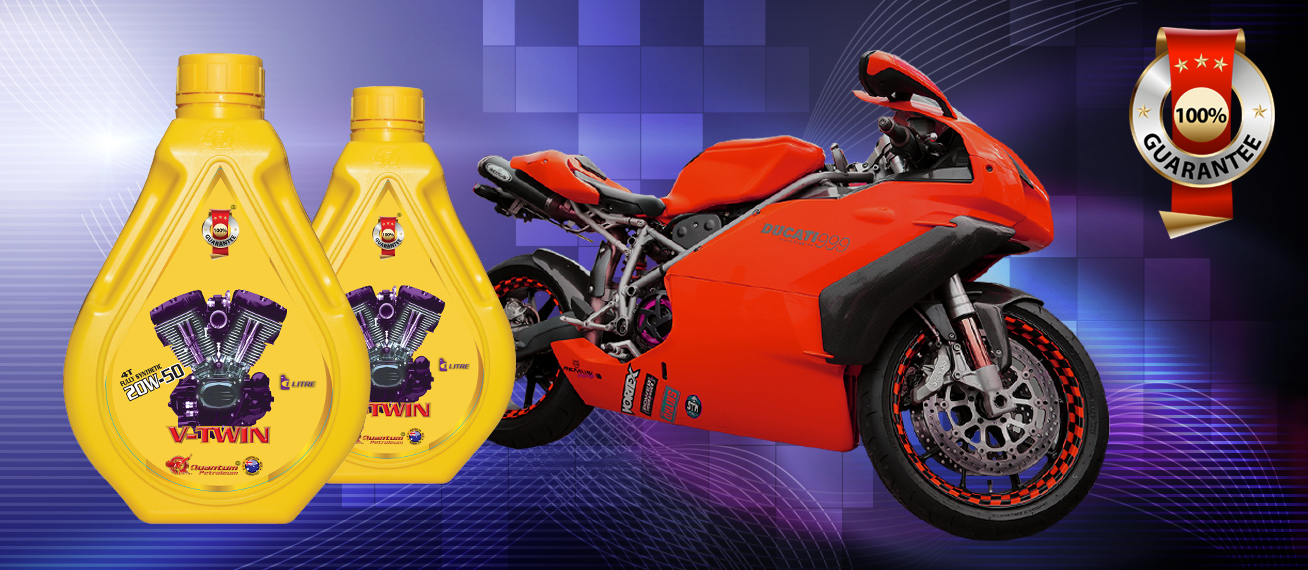 V-Twin API SM SAE 20W-50
Recommended and designed for those who demand the absolute best lubrication for their motorcycles. This is a high performance fully synthetic base oil technology with a premium exclusive additives which including the high temperatures of air-cooled engines such as Harley-Davidson's V-twins, wet-clutch lubrication, extreme-pressure regions of gears and chains and minimization of clutch slipping.
Quantum Petroleum's V-Twin 20W-50 helps maintain maximum power output due to the inherently strong performance and protection provided by the synthetic technology. This specially engineered motorcycle engine oil helps to deliver unsurpassed performance under severe race operation, air-cooled operating conditions and in any driving condition, from mild to severe. Key features and potential benefits include:
Meets the Specifications of:
API SM
API SJ
API SH
API SG
API SF
Typical Product Performance
| | |
| --- | --- |
| Characteristics | V-Twin API SM SAE 20W-50 |
| Density @15 C, kg/l | 0.868 |
| Pour Point,  C | -32 |
| Flash Point,  C | 223 |
| Kinematic Viscosity, cSt | |
| @ 40 C | 104.21 |
| @ 100 C | 18.72 |
| Viscosity Index | 160.65 |
| Cold Cranking Visc @-15C, cP | 1337.67 |
| HTHS @ 150C (cP) | 4.03 |
The product typical may change without notice, however the performance of the product would meet & exceed the API & OEM requirements.
Customer Benefits
Consistent power due to reduced frictional losses
Overall optimized balance of engine performance and fuel economy Proprietary
Resists extreme heat
Retains viscosity for excellent wear protection
Convenience of one lubricant for all three sumps
Smooth shifting and positive clutch engagement
Long life of critical valve train and bearing components
Recommended Oil Intervals Changes
Recommended for use up to twice the motorcycle manufacturer change interval (Kilometers or hours) or one year, whichever comes first, in engines, transmissions and primary chaincases. For Big Twin Harley-Davidson transmissions only, follow the HarleyDavidson recommended drain interval for synthetic oil of up to 12,000 Kilometers or one year, whichever comes first.
Health & Safety
This product is not expected to cause health concerns when used for the intended application and according to the recommendations in the Material Safety Data Sheet (MSDS). An MSDS is available via the Internet at www.quantum Petroleum.com.au or upon request at (+603) 3101-2997/3997. Keep Out of Reach of Children. Don't pollute by burning the empty bottles or rubbish. Return used oil bottle(s) to manufacture.